Up Coming Events
2019
April 5, will be our Spring Specialty in Birch Run MI
Our Spring Specialty is in Birch Run at the Frankenmuth Credit Union Event Center. Our Judges will be Mrs. Sharon Redmer of Whitmore Lake, MI and Sweepstakes Judge is Dr. Alan Dorfman of West Bloomfield, MI. You can go to Premium List for more information or to infodog.com
May 18 9 – 1:00
Milford, MI – Dog Walk for Charity. The Bouvier Club and the Boxer Club of Michigan are sponsoring a dog walk around the town of Milford. It is $10. per walk and the proceeds go to providing a Dog Vest for a Police Dog. The Vest will protect the dog from bullets and stab wounds. Any Breed or mix breed are welcome to join us
August 25
The Bouvier club is planning a fun day for your dog. It will include a fun match, Rally and Nose Work. Come and join us at the Linden Park in Linden MI. The Park is located on Linden Rd. Between Owen rd. and Silver Lake rd.. From US 23 Take Owen rd. west approximately 4 miles to Linden Rd. go North (right) approximately 2 miles. Follow the signs!
September 6
Our Specialty show will be held at the Shiawassee County Fairgrounds, Corunna, MI. Our Judges are Mrs Ann Yuhasz, from Ohio for Breed and Junior Showmanship. Mr. James Fankhauser of Schoolcraft, MI will be our Sweepstakes Judge. We are looking forward to a fun weekend of Dog Shows with Genesee County Kennel Club at a new time and place.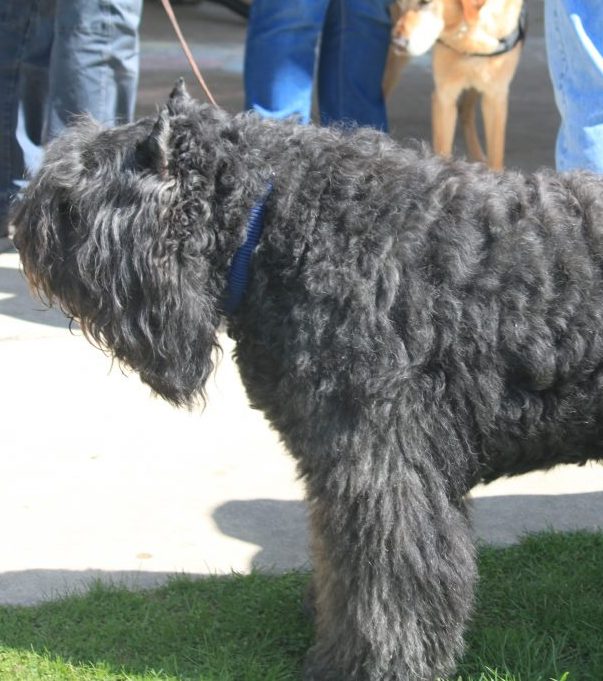 We are a local Bouvier des Flandres Club that is totally dedicated to the Bouvier des Flandres. We enjoy all the activities that further educate, train and learn how to work with our bouviers. We love new activities that involve our bouviers. We do put on activities such as Agility Trials, Carting events, Herding events, Scent Work Trials, Obedience and Conformation Shows, Funmatches, and what is called RDO (Responsible Dog Ownership) Day, just to name a few. We promote the Bouvier des Flandres dog as a very versatile dog.
Always striving to show how versatile the Bouvier is, and always looking for new adventures for our dogs. It is truly amazing at just how versatile this breed is. Some of our Bouviers are Therapy Certified Dogs. This is why our club is dedicated to promoting the temperament, appearance, soundness and the natural abilities of the Bouvier des Flandres that is described from The American Kennel Club description of the Bouvier.